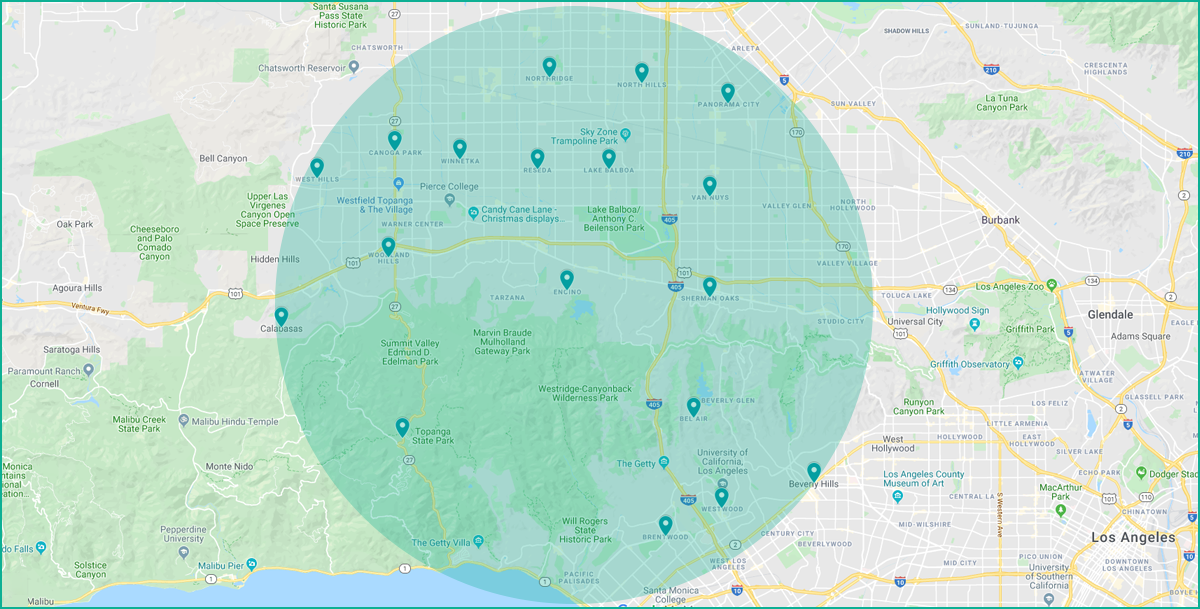 LOCAL CHILD THERAPY, COUNSELING, AND EDUCATION SERVICES
The Whole Child Neuro office is located here in the Encino neighborhood of Los Angeles, and we proudly serve families throughout the area with child and young-adult therapy, counseling, and education services. We often work with local residents, providing therapy, counseling, and education services for our neighbors in Sherman Oaks, Beverly Hills, Calabasas, Bel Air, Topanga, Woodland Hills, Canoga Park, Northridge, Reseda, Van Nuys, West Hills, Westwood, Brentwood, Lake Balboa, Winnetka, Panorama City, North Hills, and, of course, Encino. All residents of the Greater Los Angeles area are welcome to visit our office! Visit Whole Child Neuro for all of the following services for children and teens:
NEUROPSYCHOLOGICAL TESTING IN SOUTHERN CALIFORNIA
We also cater to families in Southern California, providing neuropsychological assessments for children and young adults throughout the region. You'll meet with Dr. Laura McDonald, the Founder of Whole Child Neurodevelopment Group, for an individually tailored evaluation for your child or teen. In a comprehensive, whole-child approach to the evaluation, Dr. McDonald aims to identify each child's unique strengths and areas for growth, in order to develop a roadmap to help your child unlock their full potential. Feel free to learn more about Dr. McDonald.
SCHEDULE A CONSULTATION
Curious about our therapy, counseling, and education services, our service area, or our neuropsychological assessments? Don't hesitate to reach out to us with your questions. We'd be happy to schedule a consultation to understand your needs and to meet with your child.
WHOLE CHILD NEURODEVELOPMENT GROUP
16255 Ventura Blvd
Suite 1210
Encino, CA 91436